A new museum in the Bavarian city of Passau celebrates Germany's – and the world's – affection for the dachshund.
Gleich gegenüber der Neuen Bischöflichen Residenz befindet sich das weltweit einzigartige Dackelmusum Kleine Residenz. Der Dackel – eine Weltanschauung – wird in einer Ausstellung aus der weltgrößten Sammlung mit über 4.500 Exponaten gezeigt.
Wohl kein anderer Hund ist auf dem Globus so bekannt wie der Dackel. 100 Jahre Freistaat Bayern, der Dackel im Adel oder der Dackel in der Jagd gehören ebenso zu den Schwerpunkten wie der Olympiadackel "Waldi" von 1972.
Das Museum befindet sich am wohl schönsten Platz der Stadt, dem Residenzplatz. Die Sammlung wurde von den beiden Passauer Floristmeistern Seppi Küblbeck und Oliver Storz über 25 Jahre zusammengetragen und wird den Besuchern erstmals öffentlich gezeigt. Viele der Exponate werden in Schauvitrinen liebevoll präsentiert, mit Augenzwinkern und viel Gefühl für den Dackel, der wie kein anderer Bayern repräsentiert.
Dachshund ornaments show the centuries-old affection for the German breed
More than 4,500 toys and other items showcase the breed popularly called the "sausage dog", a symbol of Bavaria.
A dachshund called Waldi was the mascot of the 1972 Munich Olympics.
The Dackelmuseum was created by two former florists, whose collection was amassed over 25 years. Artist Pablo Picasso and physicist Albert Einstein were among the dachshund's many fans.
The museum opened in the heart of Passau, in the elegant Residenzplatz. The curators say it is the world's biggest collection of dachshund-themed objects.
"The world needs a sausage dog museum… No other dog in the world enjoys the same kind of recognition or popularity as the symbol of Bavaria, the sausage dog," said co-founder Seppi Küblbeck.
Canine stamps, prints with sausage dog motifs and porcelain dachshunds are on display.
Germans bred dachshunds in the Middle Ages to flush out badgers and foxes from their burrows, to stop them attacking ducks and hens. The dogs' passion for hunting was a highly prized trait.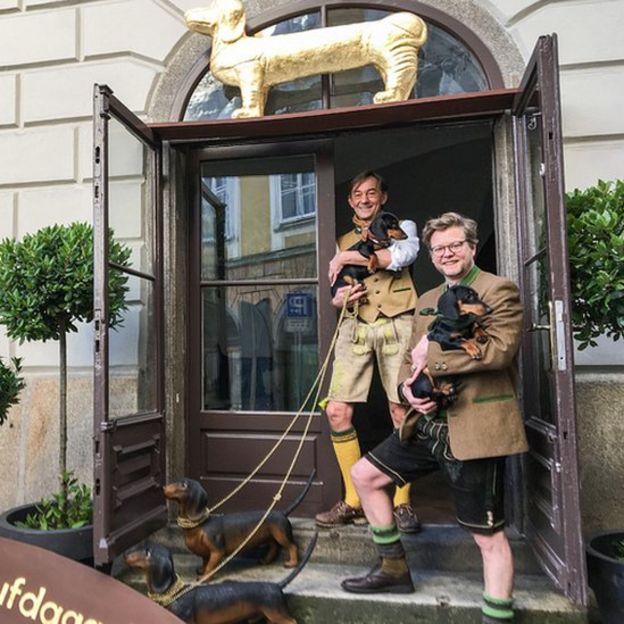 Museum curators Seppi Küblbeck (L) and Oliver Storz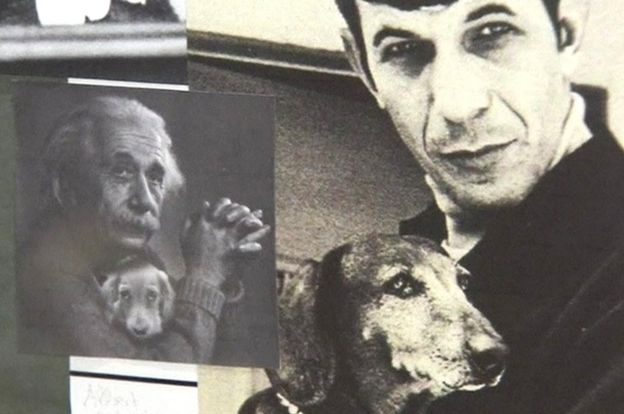 The museum shows famous dachshund owners: Albert Einstein (L) and actor Leonard Nimoy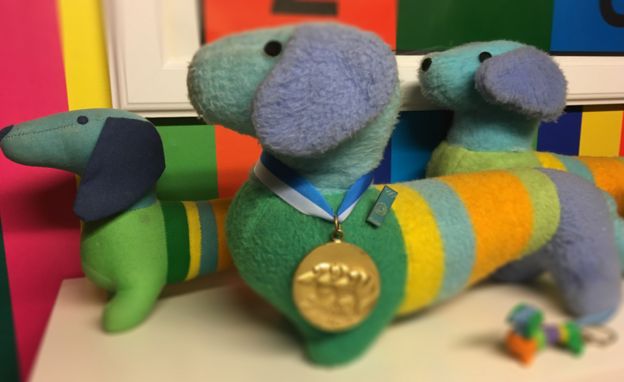 Waldi – mascot of the 1972 Munich Olympics